Crown Hill Stamp and Coin was founded in 1971. We are located in Seattle, Washington and have occupied our current store location since 1975. We carry an extensive line of coins, gold and silver bullion and  stamps. We carry a large stock of collector supplies including albums, catalogs, holders and just about anything else to support the collector. We are happy to service wants lists and special orders.
We both buy and sell collectibles and offer estate appraisals. If we can be of help, please call, email. Our long history and experience in the business is available to help with your needs.
Call 206-789-5363 -or visit us at our store:
Come by and visit us! We love beginners.
We will be happy to answer your questions
Our inventory changes daily
All sales are confidential and we will not give or sell your name to any other company.
Appraisals
Verbal appraisals or purchase offers are free. Estate appraisals usually need to be done in our store by appointment.  We have worked with banks, attorneys and the courts for over 40 years. We charge a fee for written appraisals based on time spent, and will be happy give you a free estimate of our fee before we start the appraisal.
We especially need pre-1934 U.S. currency, pre-1936 silver dollars, all gold and silver coins and rare date U.S. or worldwide coins.
Crown Hill Coins, Stamps & Collectibles

Address:

Phone:

Hours:

8343 15th Avenue N.W.
Tel: 1-206-789-5363
Sunday & Monday: CLOSED
Seattle, WA 98117,U.S.
Tuesday-Friday: 9:30-5:00
North Seattle, Ballard area
Saturday: 9:30-3:00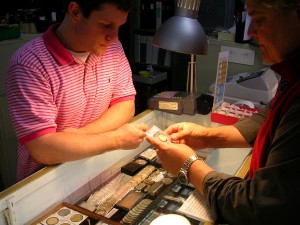 Member: American Philatelic Society Life Member (APS), American Numismatic Association (ANA), Pacific Northwest Numismatic Association (PNNA)